:: How Do I Borrow Smart From The Start? ::
A student loan is a serious obligation. It must be repaid whether you complete your education or withdraw before graduation. You can set yourself up for student loan success by borrowing smart from the start. To view a complete list of ways to borrow smart, download our Borrow Smart From the Start brochure PDF pictured below. This guide is also available in Spanish.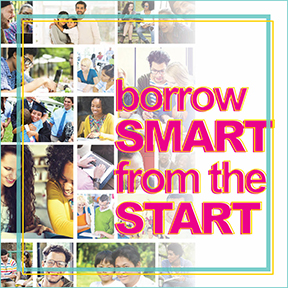 Before You Borrow
Always go for free money first. When paying for school, it's best to go for free money first. Apply for grants and scholarships and use any available family savings before taking out a student loan. If you must borrow to pay for school, exhaust all federal loan options before considering private (sometimes called alternative) loans, which can have higher interest rates and fewer flexible repayment options.
Borrow only what you'll need. When accepting a student loan, know how much money you'll actually need to cover your school expenses, which include your basic living expenses for the school term. You don't have to accept all the loan funds offered to you; borrow only what you need to pay for school expenses.
Know your starting salary. Consider the starting salary for your chosen occupation before taking out student loans. The Oklahoma Wage Network is a great place to start for state data. A good rule of thumb is to borrow no more than the annual salary your expect to earn during your first year after graduation. Use Mapping Your Future's Debt/Salary Wizard to help you calculate how much debt you can comfortably repay with your anticipated salary.
During School
Monitor your needs. Monitor your financial aid needs each semester adjust your borrowing accordingly. Decide each time to borrow only what you need for school.
Keep looking for gift aid. Don't stop looking for grants and scholarships. Talk with your financial aid office and look for opportunities offered to students with your major.
Make your interest payments. If given the option to pay the interest accrued on unsubsidized loans during your college career, do so. These quarterly payments are usually affordable and can save you hundreds over the life of your loan.
Create and stick with a spending plan. Following a spending plan takes careful planning, but it's crucial to your success as a college student. Learn how to live on a college budget through Oklahoma Money Matters' interactive learning module.
Know how much you owe. As a federal student loan borrower, you have access to StudentAid.gov. Through StudentAid.gov, you can view your loan information, including the types of loans you have, the total amount you've borrowed and your lender details.
:: Additional Resources ::