:: News ::
Read the Latest Edition of Your Bottom Line
In partnership with Ready Set Repay, Oklahoma Money Matters (OKMM) publishes a monthly newsletter called Your Bottom Line, featuring news and resources for students, consumers, campus professionals, counselors and community partners. Check out the latest edition for timely information about personal finance, college planning and student loan management.
---
The FAFSA is Here!
The 2020-21 FAFSA is here! Here are a few tips you can share with your students.
This year students can access the FAFSA by visiting FAFSA.gov  or  by using the myStudentAid mobile app. The FAFSA should be completed as soon as possible after Oct. 1 to ensure priority consideration for some types of financial aid. It's best to gather all necessary materials before starting the FAFSA. Since the 2020-21 FAFSA allows applicants to use 2018 tax information, families can use their 2018 return to complete the application right away! There's no need to wait.
To complete and submit the FAFSA online, students and one of their parents/guardians will each need to create an FSA ID (Federal Student Aid ID) at FSAID.ed.gov . This username/password serves as an electronic signature on the FAFSA and certain student loan applications, and allows them to access other federal student aid websites. It's beneficial for families to create their FSA IDs before starting the FAFSA to speed up the application process. Visit UCanGo2.org to download an FSA ID Worksheet (in English and Spanish) to keep track of your information.
For more information and FAFSA resources, including educational tools and tutorial videos in English and Spanish, visit StartWithFAFSA.org.

---
Ready Set Repay Offers New Videos
Ready Set Repay, the default prevention initiative of the Oklahoma College Assistance Program (OCAP), strives to help student loan borrowers make smart borrowing decisions and successfully repay their student loans. We receive a lot of questions about paying for school and repaying student loans, so we've developed and updated videos answering some of our most frequently asked questions:
These short videos outline specific steps to address these common issues. The videos are available on OCAP's YouTube Channel and on the Videos page at ReadySetRepay.org. Feel free to share these videos or link to them from your website.
---
Ready Set Repay Offers New Video: Student Loan Repayment Plan Options
Ready Set Repay, the default prevention initiative of the Oklahoma College Assistance Program (OCAP), strives to help student loan borrowers make smart borrowing decisions and successfully repay their student loans. There are several different student loan repayment options for borrowers to consider, so we created Student Loan Repayment Plan Options, a short video that explains the eight different repayment options available.
The video is available on OCAP's YouTube Channel and on the Videos page at ReadySetRepay.org. Feel free to share this video or link to it from your website.
---
New Poster on Interest Capitalization of Student Loans
Ready Set Repay, the default prevention initiative of the Oklahoma College Assistance Program (OCAP), is pleased to share our latest tool for financial aid partners: our new Interest Capitalization poster!
As part of OCAP's continuing mission to help you teach students across the state how to make smart borrowing decisions and successfully repay their student loans, we are constantly developing new educational materials. Our latest poster focuses on the long-term benefits to students of making interest payments toward student loans while still in college.
Click here to view or print the poster. For more financial aid and default prevention resources, visit the Partners section at ReadySetRepay.org.
---
OCAP's Partnership with Student Connections is an Investment in Student Success
The Oklahoma College Assistance Program (OCAP) recognizes the impact default prevention has on the mutual success of institutions and borrowers. Helping schools excel in this area is what led Mary Heid, OCAP's executive director, to work with Student Connections, a nonprofit affiliate of USA Funds focused on enhancing student success in college and career. Under Heid's leadership, OCAP forged an arrangement with Student Connections to provide default rate management support to 26 Oklahoma campuses with CDRs (cohort default rates) above 10 percent. The agreement provides the schools with the ability to offer comprehensive grace period and default prevention counseling to their borrowers.
Since OCAP began working with Student Connections, it has seen marked improvements in beneficiary school CDRs. "Our schools all seem extremely happy with the service we've been able to offer them through Student Connections," said Heid. "Our state CDR rate has been declining at a greater pace than the national rate, which makes us feel really good that our service is working."
Student Connections grace counseling informs borrowers of all options, which may include a return to school. In all cases, the objective is to determine the course of action best for the borrower's individual circumstances. Since the OCAP partnership with Student Connections began, students who underwent grace counseling were more than 40 percent less likely to enter delinquency on their student loans.
Whether it's measured in reduced default and delinquency rates or in the hundreds of millions of cured federal loan dollars, it's clear the OCAP-Student Connections partnership has helped preserve the value proposition of higher education in Oklahoma. As Heid says, "I think this investment in our students and institutions is rather unique, and we are very pleased that we've been able to do that with an industry partner that shares our vision of student success."
Read more about the Student Connections-OCAP partnership at the Student Connections website.
---
Beware: Avoid Loan Services Scams
The unauthorized use of instutional logos, seals, names and other trademarks is a growing trend. Often, third party companies using such trademarks without authorization target student loan borrowers for payment for services that would otherwise be free. The Department of Education (ED) recently issued two cease and desist letters to third-party "debt-relief" companies that were using ED's official seal without authorization.
As a borrower, it's important to be aware that the following federal student loan services are free, and you should never pay a third-party company to assist you with these services:
Consolidating federal student loans
Changing repayment plans
Resolving defaults
Filing requests for borrower defense loan cancellation
Some third-party companies also target colleges and universities, claiming to offer special benefits for borrowers through the school. All postsecondary institutions are encouraged to:
Provide warnings to students, including on institutional websites, about so-called debt relief companies.
Provide information to students indicating that they do not need to pay for loan benefits for Federal student loans.
Review institutional websites to ensure that they provide the most up-to-date information about the terms and conditions of federal student loans and the servicing of those loans. In reviewing several institutions websites, ED became aware that some sites contain outdated information about the Direct Loan Servicing Center and had directed students to call a number that is no longer associated with ED.
To learn more, read ED's electronic announcement, Third-Party Debt Relief Companies' Use of Institutional Names, Logos and Other Trademarks.
---
DIY Debt Detox
Are you a college student? Have you borrowed student loans? Do you know how much you owe? As you prepare for the upcoming semester, use the following resources to help you manage what you've already borrowed.
National Student Loan Data System (NSLDS). This database can help you keep track of all federal financial aid monies you receive as a college student, including Pell Grants and federal student loans. Visit nslds. ed.gov to review how much you've borrowed and which loan servicer is managing your loan(s).
Federal Student Aid Repayment Estimator. Visit the Managing Repayment section at StudentLoans. gov to explore this tool. Use the Repayment Estimator to calculate your monthly loan payment or to explore repayment options based on your income.
Your loan servicer. Loan servicers handle the billing and services associated with your loan. Some offer 24/7 customer service, smartphone apps or websites with downloadable forms and helpful information to help you better manage your student loans. If you don't know who your loan servicer is, find it using NSLDS.
Learn more about money management at OklahomaMoneyMatters.org.
---
Loan Forgiveness Programs
In these challenging economic times, you may see loan forgiveness as a potential solution for your student loan debt woes. However, it's important to understand that forgiveness of all or part of your student loan is rare and happens under very specific circumstances. Click here for a PDF with helpful information about loan forgiveness and repayment programs.
---
Student Loan Terminology Electronic Flyer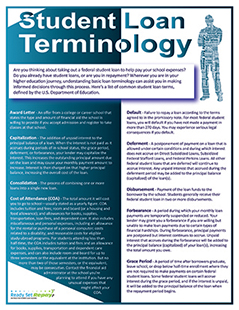 Throughout your higher education journey, you'll have many decisions to make concerning student loans. Whether you're deciding if you need to borrow student loans, how much to borrow or which repayment plan to choose, it's important you're equipped with timely information every step of the way.
As a borrower, understanding basic student loan terminology is invaluable. With that in mind, Ready Set Repay has created an electronic flyer defining 20 basic student loan terms used by the U.S. Department of Education.
Download the Student Loan Terminology electronic flyer.